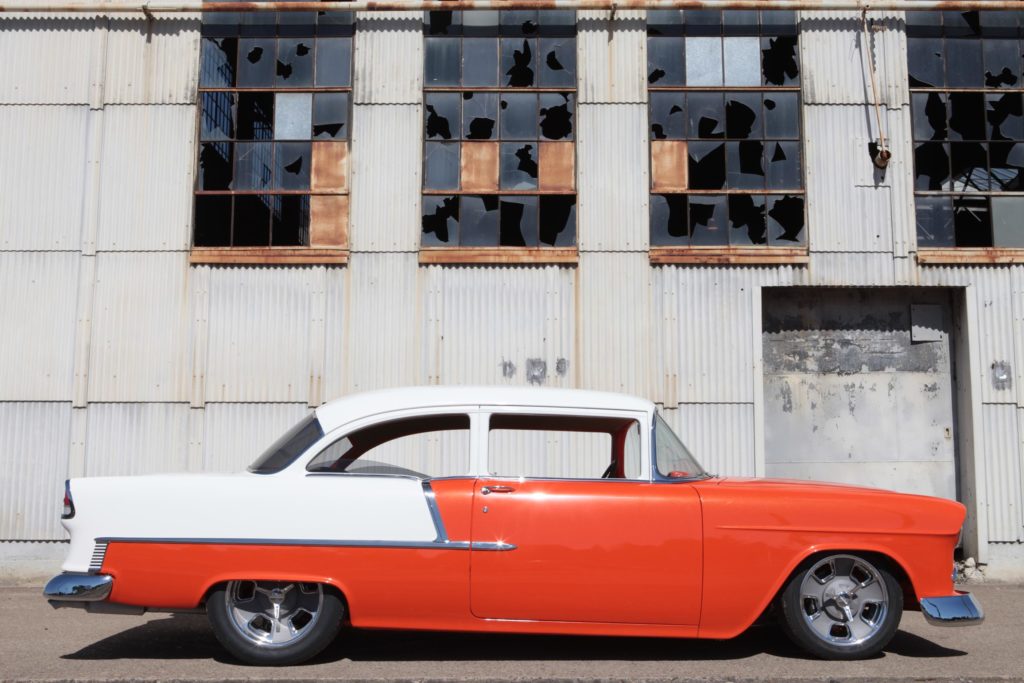 MetalWorks Pro Touring 1955 Chevy build
Tri-five Chevys are a corner stone in the world of classic cars, and most enthusiasts have found themselves drooling over one at some point. Now, we could argue until we are blue in the face about which of the 3 years has the best lines…but when it came to Shaun Schroeder's first classic car…he knew he wanted a 55.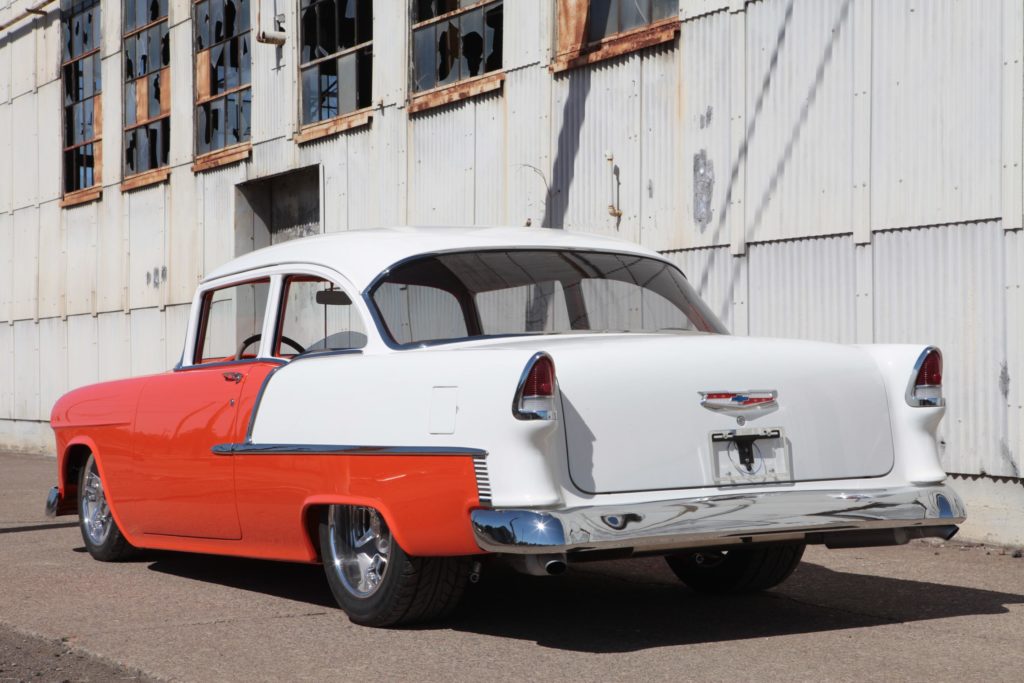 With a very successful year under his belt for his business "Wireless Alchemy", Shaun set out to find the ideal shop to build his future 55. Shaun did a good amount of internet research and honed in on MetalWorks largely due to our work displayed on our website, and especially due to our success with Tri-five builds. Shaun contacted us and spoke with owner Jon Manilla, and really liked what Jon had in mind for the direction of the 55's build, so a plan was put into motion.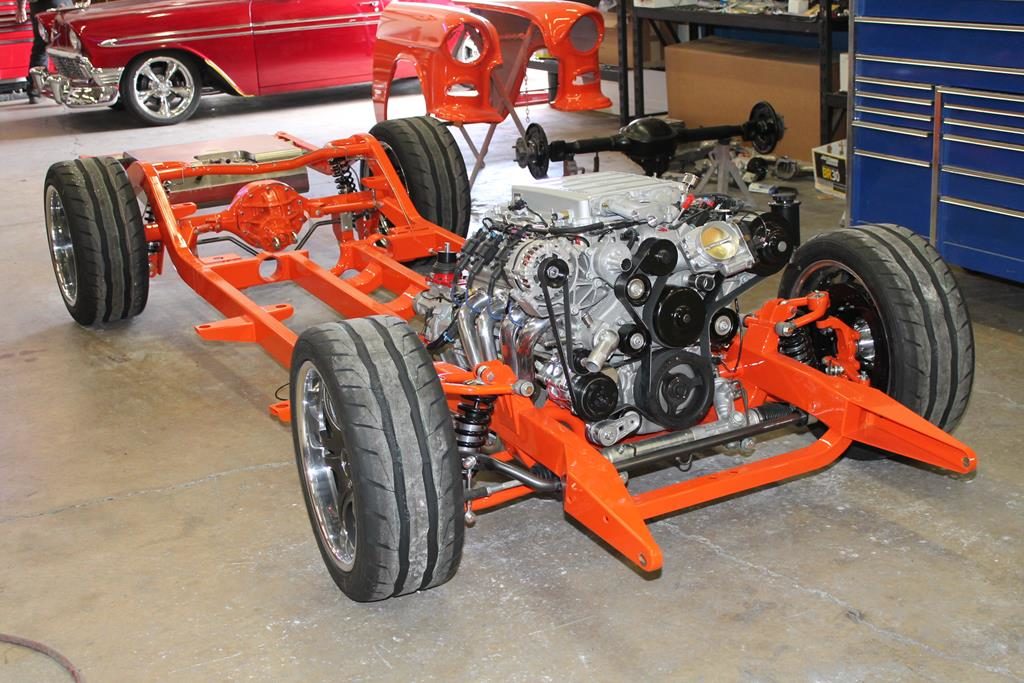 The first step was to actually locate a 55 Chevy, and luckily Jon knew of one that had already been acid metal dipped by us a couple of years prior, and was available for purchase. Shaun admits he is not a huge classic car guy, but he does recognize and appreciate quality craftsmanship…so for that reason he gave Jon and our team the green light to build him the best 55 possible…and the end result blew Shaun away.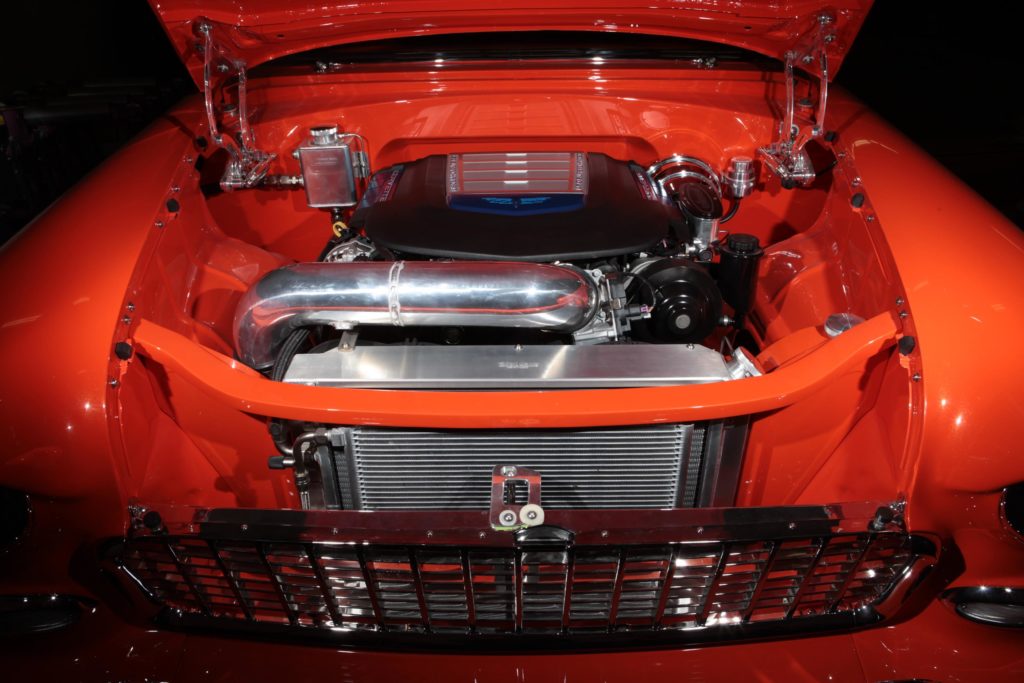 The Chevy's paint work is a gorgeous combo of laser straight orange and white, colors that Shaun said helped win his wife over on the build as they are both huge Giants fans. Underneath the 55's amazing exterior is a precisely chosen platform of components that create a driving experience that keeps Shaun grinning and filled with excitement every time he gets behind the wheel. One of the 55's key components is the Art Morrison chassis…and a special one at that as the 55 sits on the 1000th Art Morrison Tri-five chassis built. Nestled into the Chevy's frame rails is a GM Performance supercharged LS9 engine connected to a TREMEC 6 speed transmission. At MetalWorks we are extremely knowledgeable in LS platforms, and the Chevy's LS9 delivers a performance that is smooth as silk…well, silky smooth that is until Shaun decides to drop the hammer, then all hell breaks loose. When things do get out of hand Wilwood brakes help stop the double nickel on a dime, and luxury amenities like leather interior, 8" touch screen navigation, and electronic dual climate control keep Shaun and his wife extremely comfortable while cruising any distance.
In the end Shaun wanted the best, and we delivered on that goal. Shaun is not a car show type of guy, but he loves putting miles on the 55, so watch for this wicked 55 on the streets of Winters, CA…Shaun will be the guy with the smile on his face.