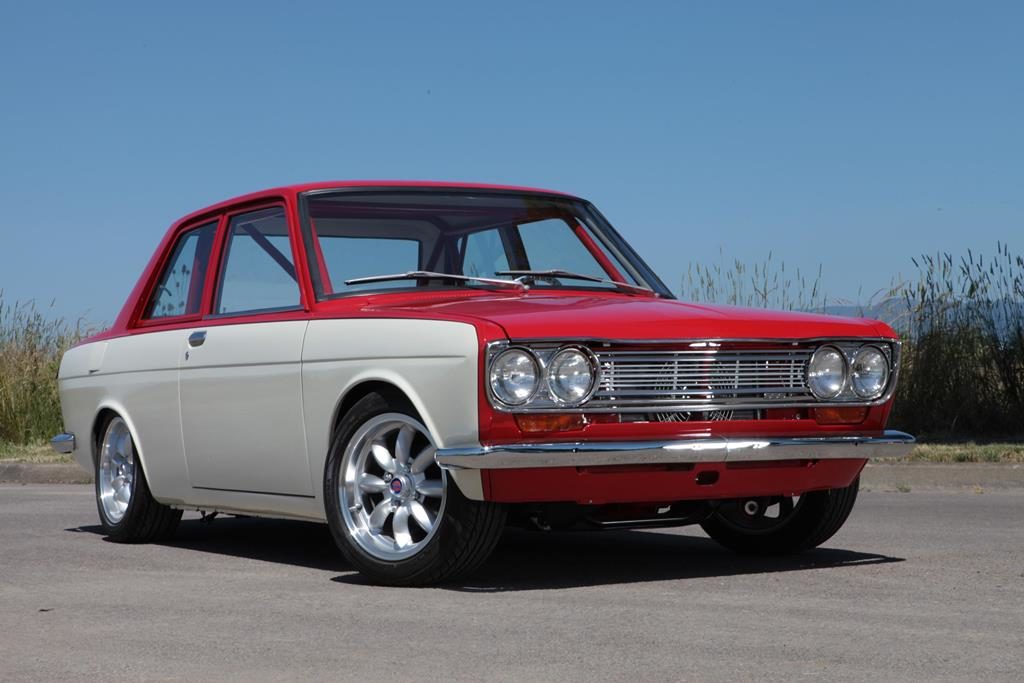 MetalWorks built Datsun 510
Datsun 510s have had a long cult following…loyal enthusiasts who have loved these cars long before their recent upswing in the collector car market.  One such 510 loyalist is Tim Bridges who makes his living as a body man and painter at MetalWorks Classsic Auto Restoration in Eugene, Oregon.  Tim's dedication and excitement towards 510s spread to Jon Mannila, owner and founder of MetalWorks…so it was not a big surprise when Jon decided he'd like to try his hand a building a 510 for the street.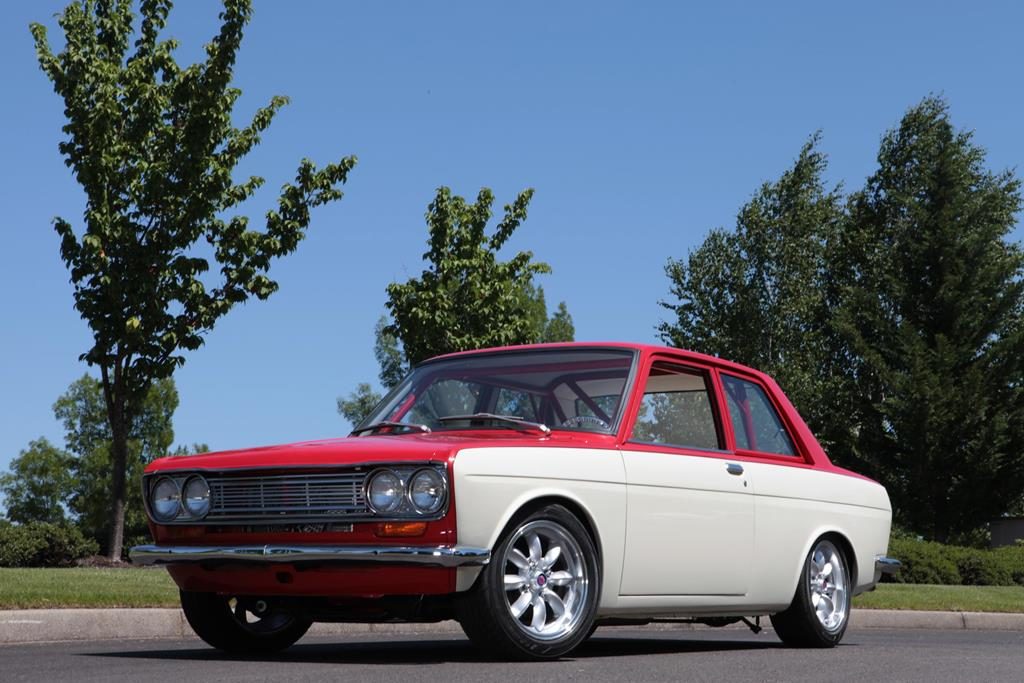 Through an unfortunate divorce situation of a 510 fanatic, Jon was able to buy out a collection that consisted of a semi-driver 510 sedan, along with a parts car, and a garage full of parts.  Once all the pieces and parts were back at Jon's a place a plan was laid of what they had, and what they still needed to perform the build that Jon had running around in his head.
Now here is where the build takes a bit of a turn from most traditional 510 builds.  You see, Jon was not a hardcore 510 guy prior to this, so he did not have any real preconceptions as to how people tend to build them.  Instead, Jon took the route that he knew…which is hot rods and muscle cars…which resulted in the build you see before you.  I can tell you now Jon's version of a 510 has been embraced by as many people as it has been shunned…but hey, variety is the spice of life, and if we all built our cars the same…wouldn't life get boring real quick?  Let's dig into some of the details of the 510's transformation.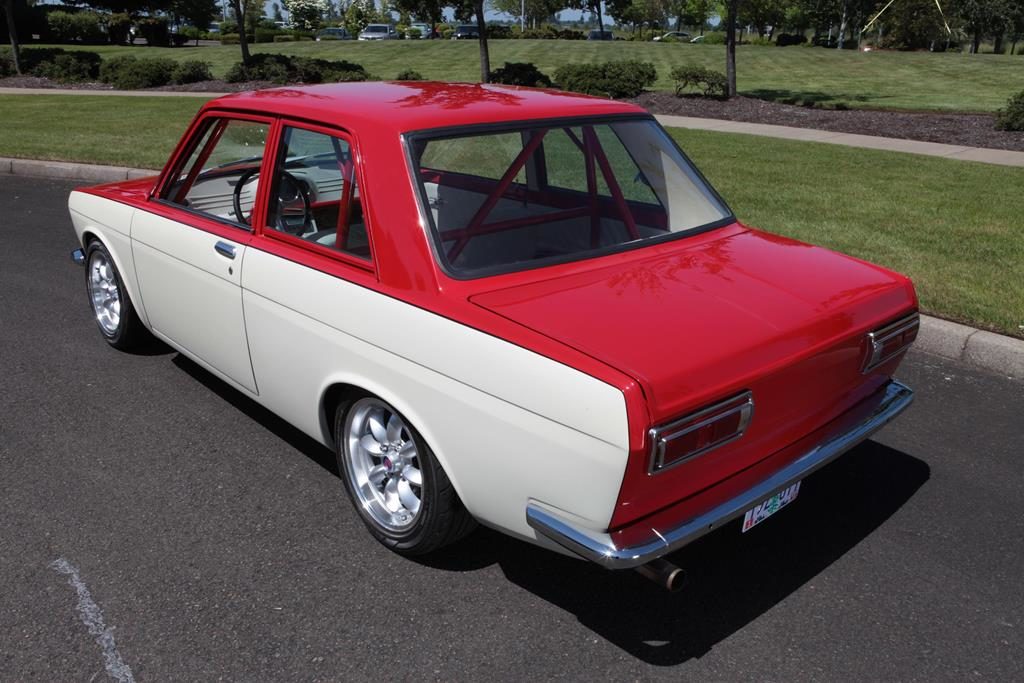 Jon maintained the same L18 that limped the Datsun onto the trailer the day be purchased the car, but had it completely freshened.   A set of flattop pistons were dropped into place to "up" the compression, then an A87 peanut head that was sent off to Rebello so that they could work their machining magic on it.  Other notable goodies utilized on the engine include: a D.A.M.B. cam, 45 Weber side draft carbs, an electric distributor, MSD ignition, and an AFCO racing radiator.  Some shine appeal comes from chroming the header, and a polished valve cover.  This finished package was estimated to put out around 200hp.  With the engine dialed in Jon focused on an equally impressive gear box.  As luck would have it an NOS 280Z 5 speed gear box was located from a collector who had bought out a dealership.  The pristine gearbox was paired up with Subaru STI limited slip differential, as well as STI CVs.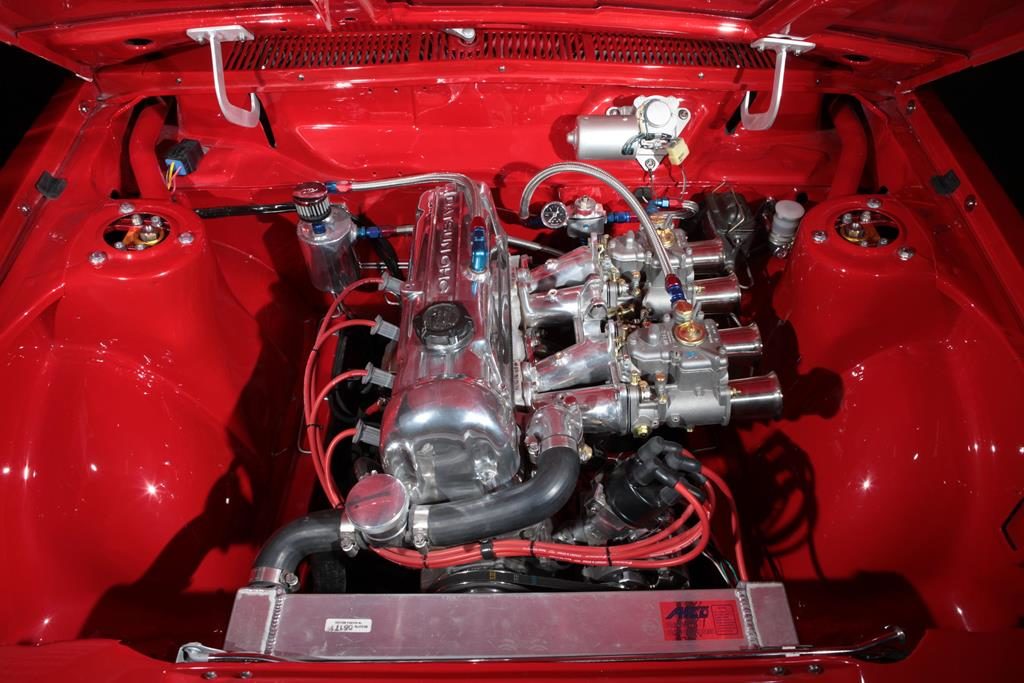 Now it was time to focus on the 510's suspension which naturally had to equal the driveline.  Just of few of the mentionable components include:  Adjustable camber plates, T3 coil overs, KYB inserts and shocks, Suspension Technique sway bars, shortened Dodge D50 springs out back, MD Machine bump steer spacers, a steering box brace, and a Pnultimate slotted rear cross member.  Aiding in the 510's road performance is a set of Rota RB wheels wrapped in Yokohama 195/50/R15 tires.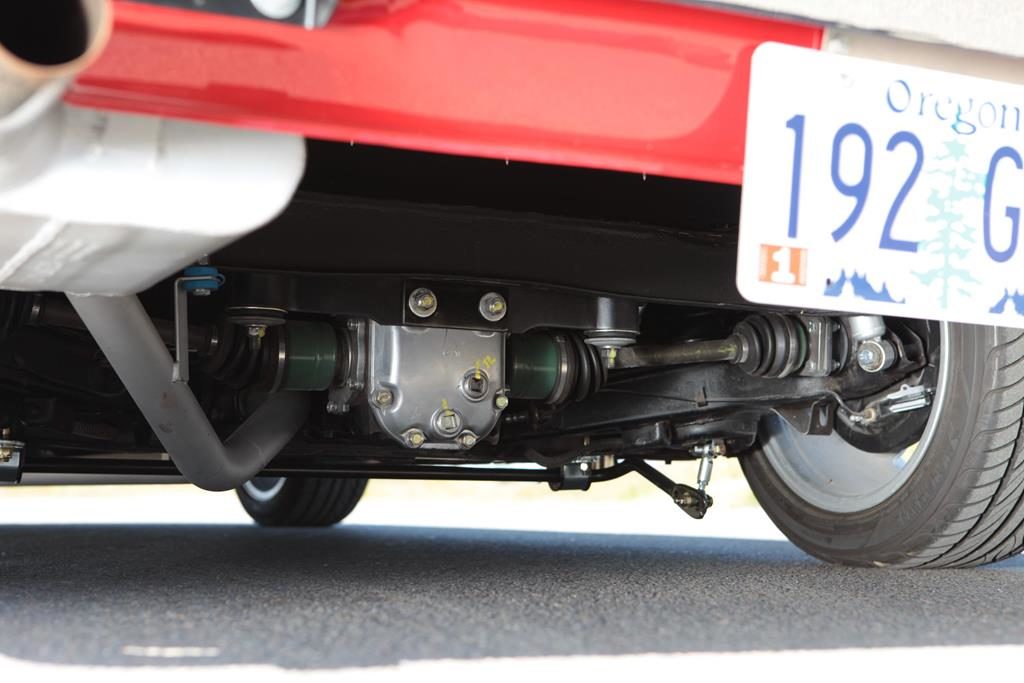 The Datsun's body was worked to perfection, and its trade mark rear vents removed before being shot with coats of red and creme BASF urethane base and clear.  The paint was then wet sanded and buffed to a mirror finish.  Moving inside the 510 we find full custom leather interior, including wrapped Pro Car seats.  Billetspecialties components abound in the form of window and door cranks as well as the steering wheel.  Vitals are monitored on Dakota Digital gauges, and a HURST shift knob keeps gear changes comfy.  The interior is tied together by an integrate roll cage that eliminates the rear seat.  , A Painless brand wiring kit brings everything to life including the massive, but cleverly hidden Rockford Fosgate stereo system.
In the end Jon's 510 became a mix of some traditional touches mixed with a heavy dose of hot rod and muscle car influence.  Love it or hate it, you will not pass yourself driving down the road in this 510, and I believe that is always a good thing…the car world can certainly survive without another cookie cutter build.  Keep an eye out for this hot little 510 tearing up the streets of the Willamette valley.